Les grésillons
L'actualité du camping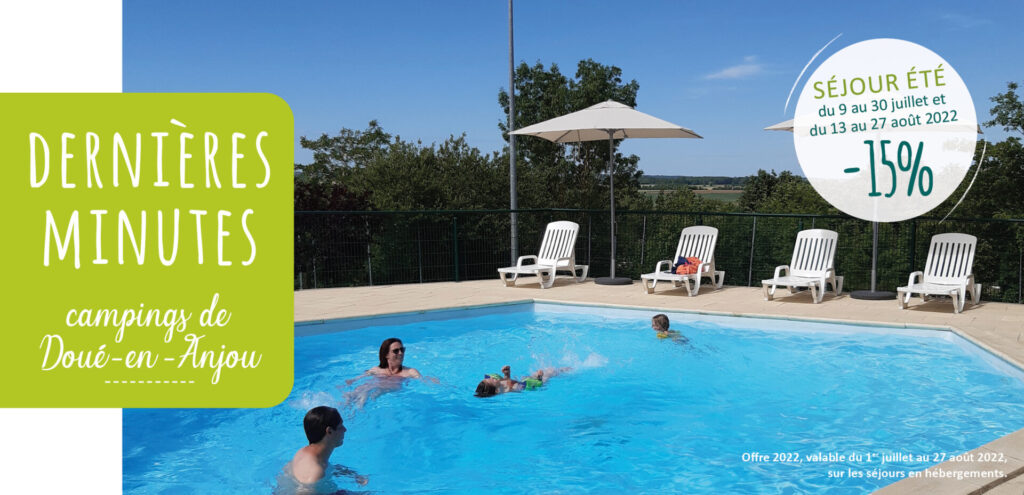 Holidays at low prices at the end of summer
The great last minutes of summer! Holidays at low prices at the end of summer, take advantage of -15% from 5 nights in accommodation at the Grésillons campsite: the offers for the month of August!
Looking for a nature destination!
Welcome to Anjou. Take advantage of discounts on a territory with many activities for the whole family: enjoy moments of emotion at the Bioparc, explore the world of troglodytes at the Mystère des Faluns, go out in the vineyard, taste fouées and stroll along the Loire, before finding rest in one of our accommodations. Take advantage of this offer for a minimum of 5 nights from August 13 to August 27.
Home passport
📢 In addition to a reduction on your stay, you will be able to benefit from the offers of our welcome passport: -15% on entrances to the troglodyte and sarcophagus, €5 instead of €7 at the mystery of the faluns, €3 on entrances to the aquatic center, various reductions or offers for restaurants in the area, visit and bottle offered in certain vineyards, and much more… Enough to allow you to discover the territory of Anjou and all its treasures.
Don't hesitate, to book it's here 👉 https://camping-lesgresillons.fr/les-hebergements/en-location/